Prevalence, Awareness And Adverse Outcomes Of Breast Ironing Among Cameroonian Women In Buea Health District
Keywords:
Breast ironing, Prevalence, Awareness, Consequences, Adverse outcomes, Cameroon.
Abstract
Background: Breast ironing, also known as breast flattening, is a practice that involves the use of an object to massage, press, or pound the breast. This practice is usually performed on girls, between the ages of 9 and 15 years The known effects of breast ironing are self-reported symptoms or signs of breast ironing by the victims. This study aims to investigate the prevalence, awareness, and adverse outcomes of Cameroonian women towards breast ironing.
Methods: A mixed method design involving qualitative and cross-sectional study among women aged 18years and above. The primary outcome variable was previous experience of breast ironing. Log-binomial model was used to determine effects of breast-ironing on selected reproductive health outcomes.
Results: Of 160 women interviewed, 22 (14%) had experienced breast ironing. The mean age was 26±4.62 years. All participants were aware of breast ironing. There were significant associations between being a victim of breast ironing and parity, breast symmetry, nipple anatomy, breast pain, milk quantity during lactation, breast sagging. The risk of reporting breast ironing was higher among women who experienced breast sagging earlier than expected, women who reported breast pain and women whose breasts had marked asymmetry.
Conclusion: Breast ironing is prevalent in the Buea health district of Cameroon, and victims are more likely to experience adverse breast outcomes. Health education and introduction of legislation against breast ironing will go a long way to eliminate this harmful traditional practice. More studies will help to further understand drivers of breast ironing in other regions of Cameroon.
Downloads
Download data is not yet available.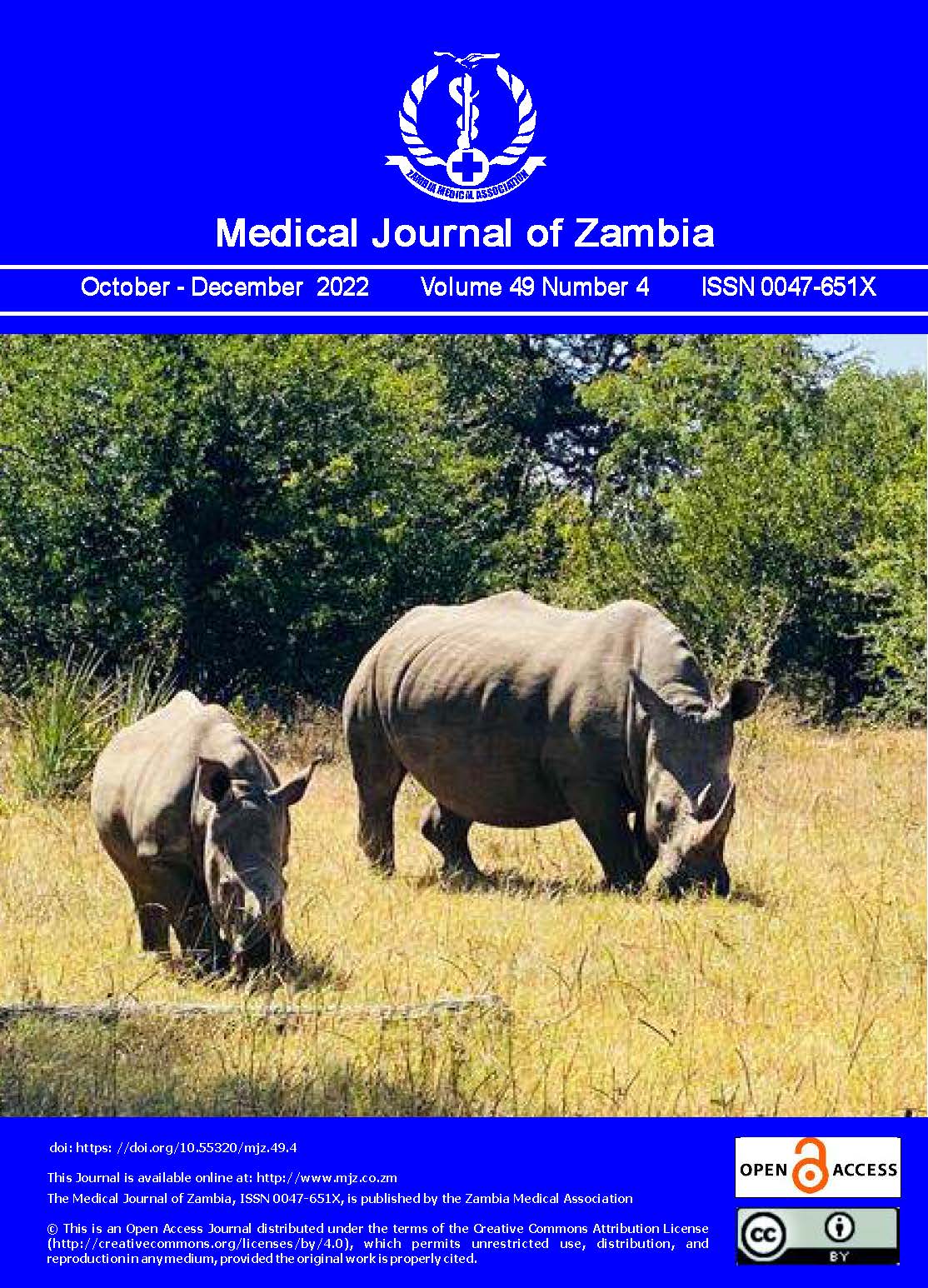 Downloads
How to Cite
Fotabong, M., Obajimi, G., Lawal , T., & Morhason-Bello, I. (2023). Prevalence, Awareness And Adverse Outcomes Of Breast Ironing Among Cameroonian Women In Buea Health District. Medical Journal of Zambia, 49(4). https://doi.org/10.55320/mjz.49.4.391
License
Copyright (c) 2023 Medical Journal of Zambia
This work is licensed under a Creative Commons Attribution-NonCommercial 4.0 International License.